GLCSD Regular Board Meeting scheduled Nov. 1, 2022 at 5:00 pm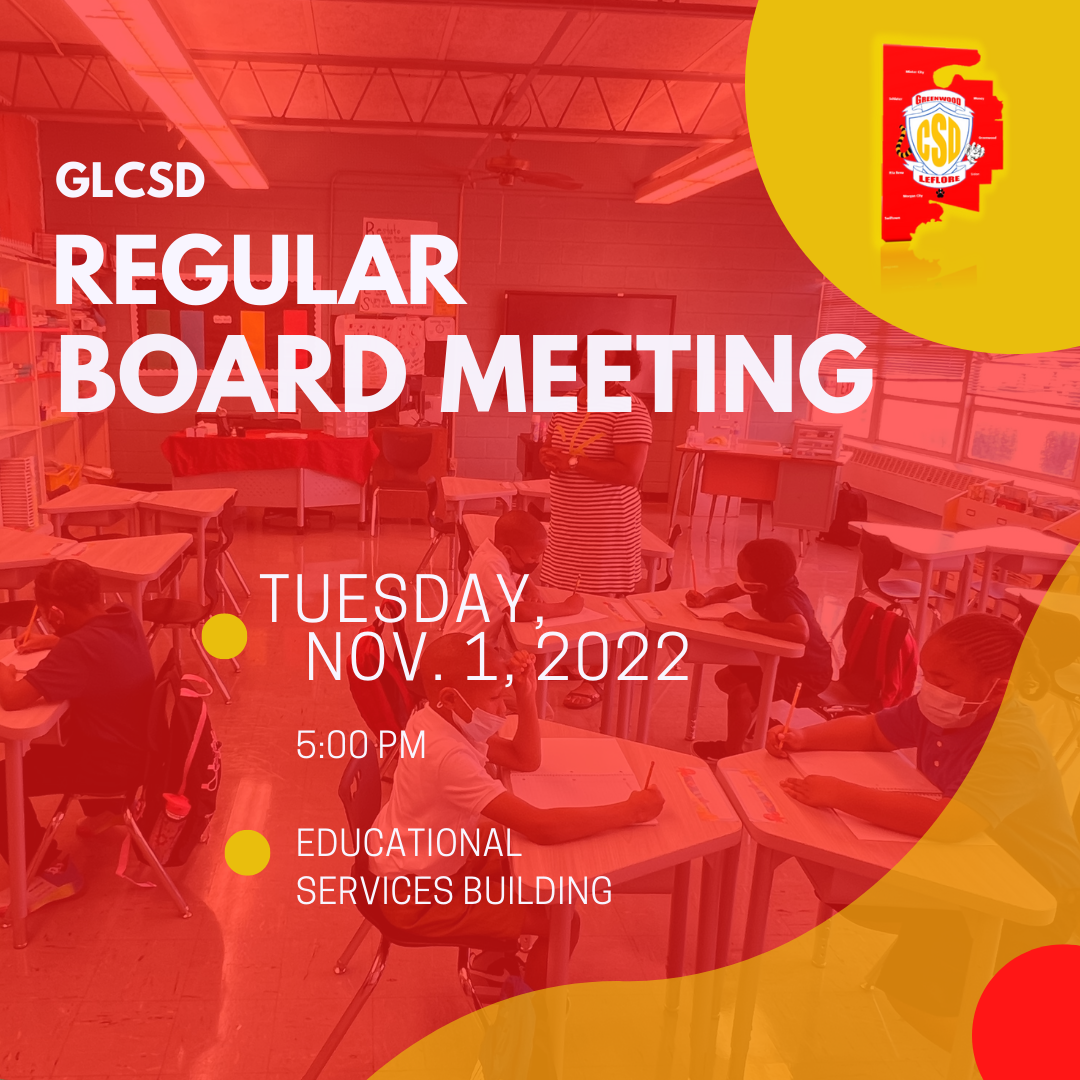 ---
A Regular Meeting for the Board of Trustees of Greenwood Leflore Consolidated School District will be held Tuesday, November 1, 2022, beginning at 5:00 p.m. at 1901 Highway 82 West, Greenwood, MS 38930. For public viewing, please visit the district's webpage at
www.glcsd.org
and click on District Live Stream under the Board tab.
The subjects to be discussed or considered or upon which any formal action may be taken are as listed below. Items do not have to be taken in the order shown on this meeting notice.
Unless removed from the consent agenda and placed under discussion / action, items identified within consent agenda will be acted on at one time with no discussion.
1. CALL TO ORDER AND INVOCATION
2. POLICY UPDATES
3. APPROVAL OF THE AGENDA
4. SUPERINTENDENT'S REPORT
5. DISCUSSION/ACTION
6. CONSENT AGENDA
7. PERSONNEL
8. FINANCIAL
9. CONSIDERATION FOR EXECUTIVE SESSION
10. ADJOURN
If, during the course of the meeting, discussion of any item on the agenda should be held in an executive session, the Board will conduct an executive session in accordance with the Mississippi Open Meetings Act, (MS Code Section 25-41-1 et seq.). Before any executive session is convened, the presiding officer will announce publicly that the Board is going into executive session and give the reasons therefore.
The notice for this meeting was posted in compliance with the Mississippi Open Meetings Act on November 1, 2022.